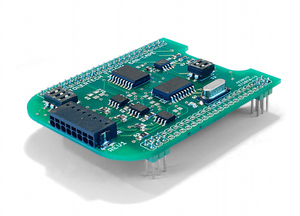 | | |
| --- | --- |
| Price: | 87,00 € |
| VAT: | EU only |
| Shipping: | |
| Stock: | |
| | |
Please send us an email to order.
Your payment will be processed with

.
TT3201 CAN Cape
Multi channel CAN Bus Cape for the BeagleBone Black
The TT3201 CAN Cape gives your BeagleBone 3 CAN Bus channels,
using both the AM335x CAN controller and two Microchip's MCP2515.
The user's manual is available here.
Notice The TT3201 is compatible with the BeagleBone Black, please read below for the details.
Features
3 CAN bus channels (1xAM335x, 2xMCP2515)
User-selectable bus termination for each channel
Cape configuration eeprom
Strong spring-cage connector
SocketCAN compatible
BeagleBone Black Compatibility
The TT3201 is compatible with the BeagleBone Black.
However, HDMI audio will be disabled due to hardware resource conflicts. Video will work fine.
Software
SocketCAN is fully supported and can be used with the can-utils or by your own code.
The TT3201 will be readily available after the boot. All the necessary instructions and drivers will be given to you after the purchase.
Customizations
This product can be customized when purchased in quantity. We can build it with different CAN transceivers, number of channels and slew rate controlling resistors. If interested, please send us an email.
Applications and Industries
CAN Bus development
ISO 11898
NMEA2000
SAE J1939
ARINC 825
CANOpen
Automotive
Aviation
Aerospace
Marine
Energy management
Links