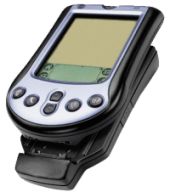 TT2302 "iReader m10x"
for the Palm™ m100/m105 handhelds
The TT2302 "iReader" is an iButton/1-Wire interface for the Palm m100 and m105 handhelds.
Features
Front probe
RJ-11 connector
Unique 1-Wire address
Embedded iButton holder
Software-compatible with the DS9097U
Compatible with the Palm m100 and m105
27 kV ESD protection (IEC 801-2) on the 1-Wire bus
Applications
Time and attendance
Automatic part information & warranty tracking
Temperature monitoring (HACCP)
Mobile access control
Route tracking
Electronic signature
eCash
Electronic fleet management
Quality control
Asset tracking
For a detailed list, you may want to see the Dallas/Maxim iButton applications page.
Documentation
None available at this time.
References